BNS Terminal
BNS Terminal is a modern information environment allowing for high flexibility in following the news, in making news selections suitable for professional users and applying different patterns of presentation of news and information. Subscribers can manage their own personal settings of the interface depending on their preferences and habits. For reading news on a smartphone a phone display view has been adapted that is common for all users. You need a personal user account to read news on your phone.
Terminal webpage view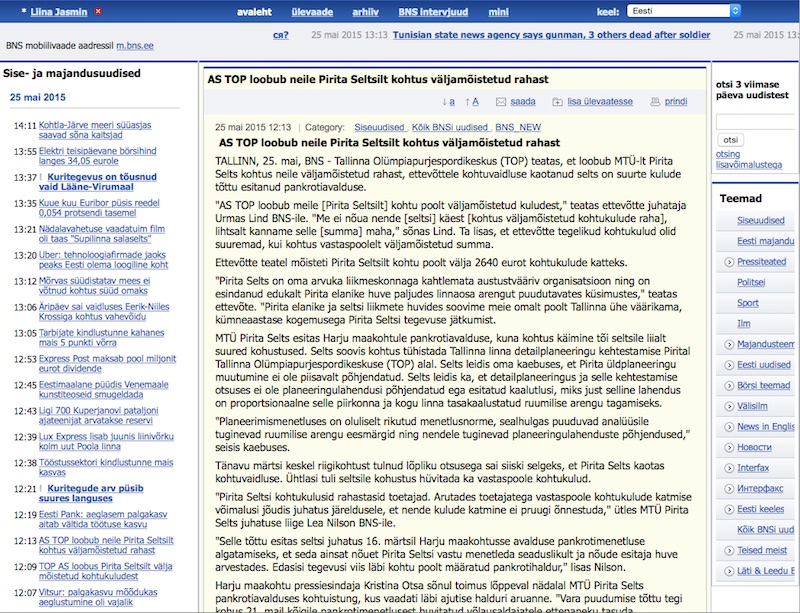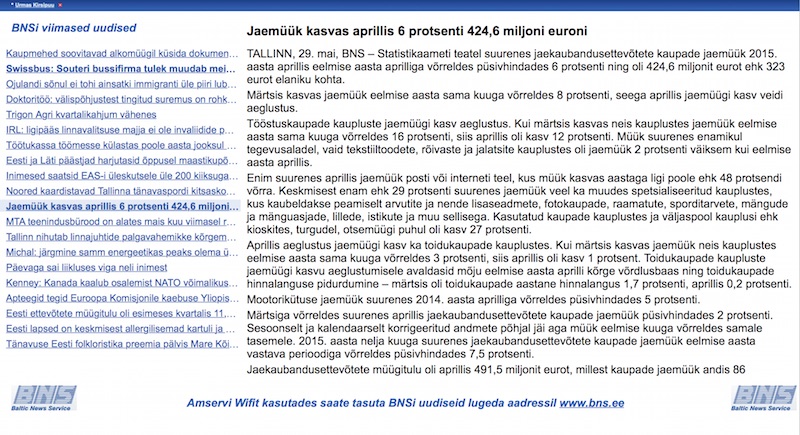 Mobile webpage view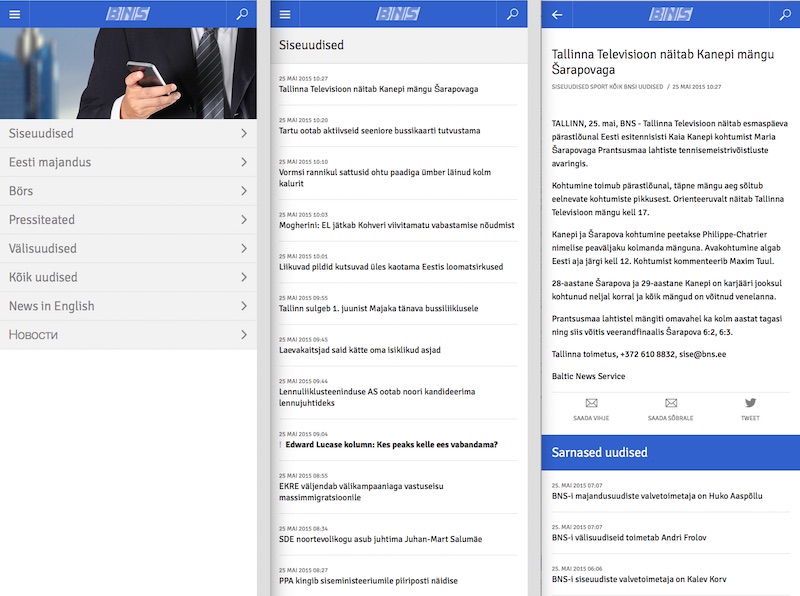 Economic news in real time provide a competent, accurate and in-depth coverage of the most important economic events in the Baltic countries and elsewhere in the world.

Estonian economic news
Stock market news and stock market commentary
Rates/prices and currency market commentary
Latvian and Lithuanian economic news
Economic news from CIS and Georgia
Economic news from the rest of the world
Domestic news in real time provide a comprehensive, fast and reliable coverage of social and political daily news around the clock, seven days a week.

Estonian domestic news
Diary of events
Culture
Police
Sports
Weather
Foreign news in real time - a topical and objective look into events of the world 24/7.

Latvian and Lithuanian news
News from CIS and Georgia
News from the rest of the world
We release news stories in five languages: Estonian, Russian, English, Latvian and Lithuanian.
For subscribers who prefer to read about the latest events in the region once a day or a couple of times a day we sort news stories by category and bring them to the subscriber as a package. For English-speaking users we also offer English-language news briefs and overviews of the main topics covered by newspapers.
Daily and weekly bulletins in English
Diary – schedule of daily events
Digest – news briefs from leading local newspapers
News Bulletin – expanded overview of the day's top stories published in newspapers; includes items released in Diary and Digest
Insight – translations of newspaper articles and interviews
Defense Review – weekly bulletin offering a comprehensive overview of news related to national defense
Baltic Business Weekly – bulletin that brings to subscribers Baltic economic and corporate news of the past week sorted by topic
Archive
Archive is a unique tool to search for news stories and articles by keyword or phrase, either from the headline or full text, from the year 1991 onwards.
Archive webpage view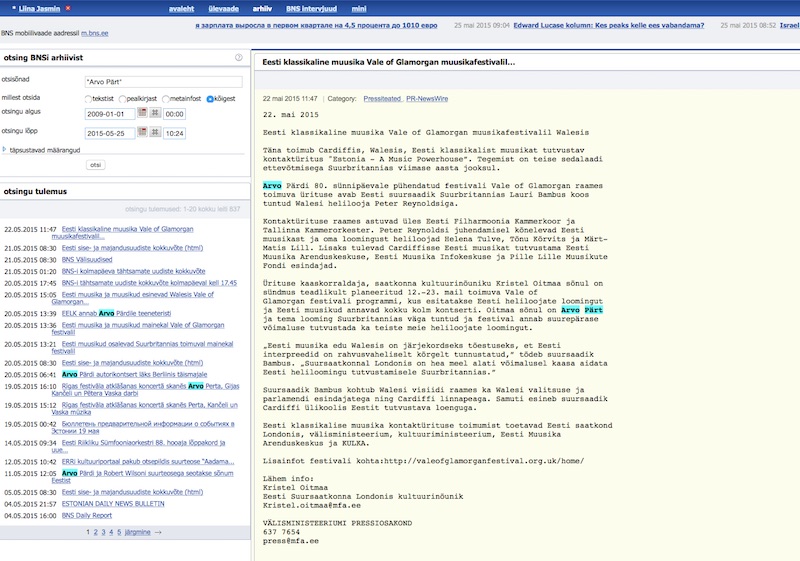 BNS is the sole representative of Interfax, the best-known news agency of Russia, in the Baltic countries. Interfax is an independent news agency whose broad coverage of topics in Russian and in English offers the best picture of developments in Russia and the CIS.
Inform us and others about important events by sending a press release to pressiteated@bns.ee. Publication of international press releases is a paid-for service. Information about prices can be obtained via e-mail from sales@bns.ee or by calling +372 610 8808
+372 610 8808.
BNS Calendar
BNS groups together into its Calendar portal the most important activities of the main state institutions as well as the PR sphere and the private and non-profit sectors. BNS Calendar has three categories for upcoming events: domestic policy, economy, and culture- and PR-related. The Calendar portal is a great tool primarily for media outlets and the PR sector for planning their work.
BNS Calendar webpage view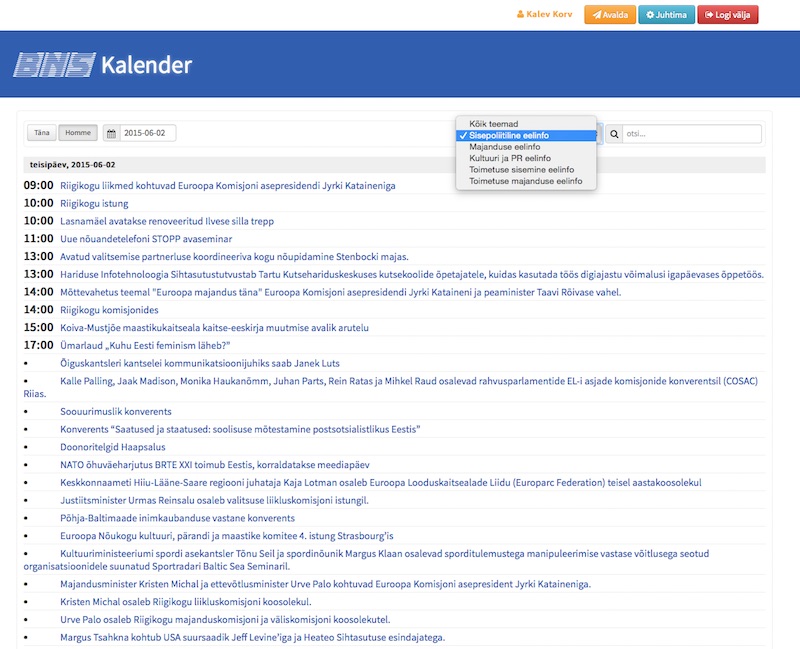 How to register as user of BNS?
Valid Service Agreement is the basis for getting access to BNS Terminal. Please send your contact data and we will contact you as soon as possible.